Epilepsy Sox!
It's a PEARS' Epilepsy Awareness Night at the Boston Red Sox game and Fenway Park is packed. Shortly before the playing of the national anthem, families wearing purple (for epilepsy) t- shirts step onto centerplate. Each child is recognized on the scoreboard for their individual battle with epilepsy and to raise awareness for this disease that changes the "everyday" of many families nationwide. Thousands of fans cheer on the kids and teenagers. For many baseball fans, epilepsy will now have a face and meaning. Follow us on Instagram? Follow @ketovie for a live video of the pregame announcements!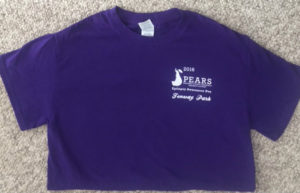 Founded by parents of children with epilepsy, PEARS, Pediatric Epilepsy Awareness Research Support is an organization working to raise awareness and fund research and support for Pediatric Epilepsy (www.pearsgroup.org). The organization hosts annual events including their signature Annual Croquet for a Cure Tournament, this September will be the third year of the event.
The events put on by PEARS provide a great way for families dealing with epilepsy to connect with each other and learn together. However, events are far from limited to families directly affected by the diseases. Hundreds of other friends, family, coworkers and beyond join in on the fun and become better educated about the disease.
Before the game, PEARS members gathered at the Baseball Tavern where they enjoyed typical baseball fare, pizza and hot dogs. KetoVie and KetoVie Café was honored to be able to provide the same menu for those following the ketogenic diet and share information about the keto diet with all in attendance. All items were a huge hit amongst everyone who sampled them.  Even those without epilepsy thought the keto foods were tasty!
Are you interested in starting a group like PEARS near you or do you need help organizing a keto support event? Contact us at everyday@ketovie.com