By Mary Susan Spears, MS, RD, CSP, LD
Here's a fun new recipe for keto-friendly pigs in a blanket.
Pigs in a Cheddar Blanket

Items to order from Cambrooke
KetoVie Café Cheddar dough and Veggie Dip Mix
Other ingredients
4 (40 grams) Cocktail sausages (we used Hillshire Farm's Beef Lit'l Smokies)
½ cup (40 grams) Broccoli slaw (no dressing)
1 cup (224 grams) Mayonnaise (we used Hellmann's to get the highest ratio for our dressing)
Instructions
Defrost a ball of Cheddar Dough at room temperature.
Preheat your oven to 350°F, you could also use a toaster oven as pictured.
Cut the cheddar dough into 4 equal pieces (7g each).
Form the dough pieces into a flat rectangle long enough to wrap around a cocktail sausage.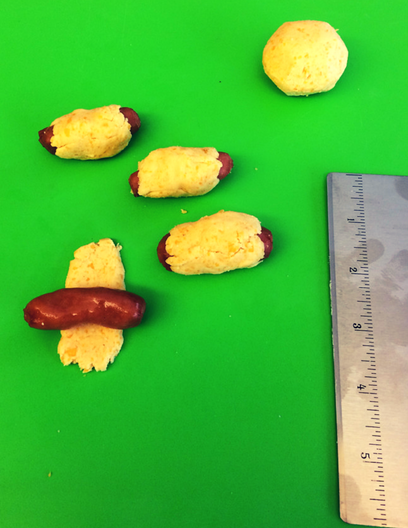 Cup your hand to help mold the dough around the sausages.
Spray a cookie sheet and evenly space pigs.
Cook for 12 -15 minutes or until golden brown on top.
Make the slaw while your cheddar pigs are cooking

Broccoli slaw
Measure 1 cup (240 grams) mayonnaise.
Stir in 1 packet
Measure ½ cup (40 grams) Broccoli slaw vegetables.
Add 2 Tbsps. (23 grams) prepared veggie dip to the broccoli slaw and place on plate.
Place any remaining dip in the fridge to use later in the week on vegetables, or as a dressing on a salad.
Arrange the cooked cheddar pigs around the broccoli slaw and chow down.

Nutritional Information
Each Pig
67 calories, 2.25 g Protein, 6.13 g Fat, 0.58 Net Carbs, 1.35 g Fiber, Ratio of 2.2:1
KetoVie Café Veggie Dip Mix with 1 cup Hellmann's Mayonnaise
1684 Calories, 1.72 g Protein, 183.17 g Fat, 7.13 Net Carbs, 0 g Fiber, Ratio of 20.7:1
Broccoli Slaw with dressing
171 calories, 1.11 g protein, 17.74 g Fat, 1.64 g Net Carbs, 1.4 g Fiber, Ratio 6.45:1
Total Meal
437 calories, 10.11 g protein, 42.24 g Fat, 3.94 g Net Carb, 6.8 g Fiber, Total Ratio 3:1