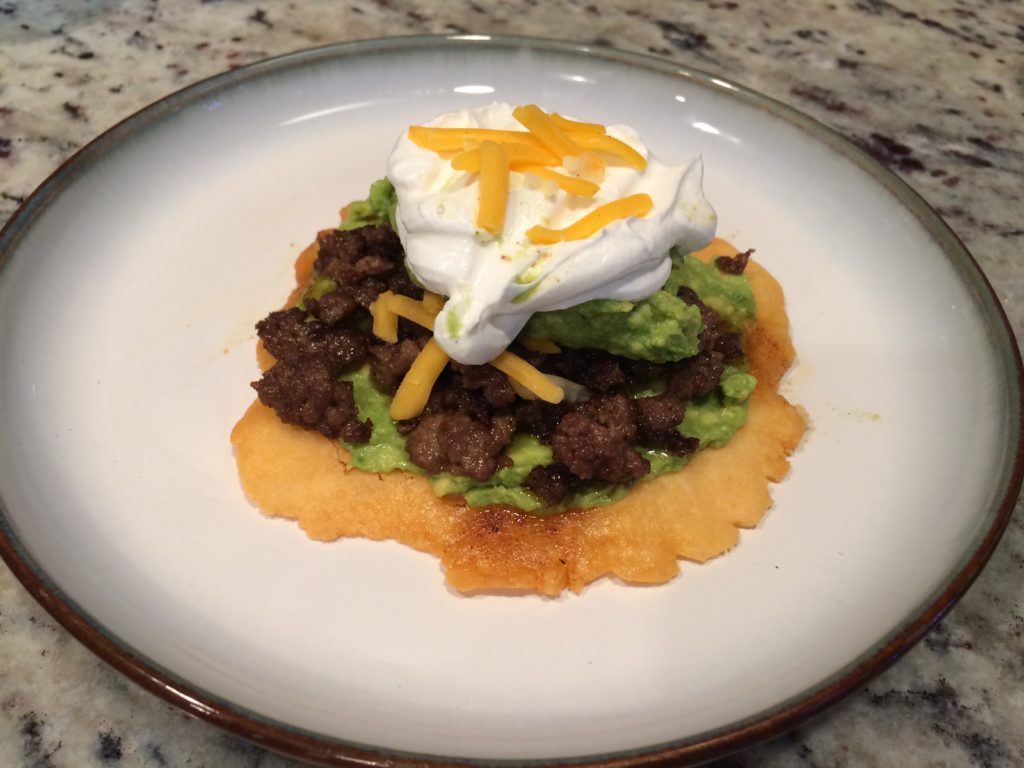 May 5 is Cinco de Mayo – a day to celebrate Mexican culture. Here's a keto-friendly recipe which substitutes Cambrooke's Cheddar Dough for the corn tortilla. With 524 calories and 50.71 grams of fat, it's a substantial meal, suitable for a teen or adult.
Cheddar Dough Tostada 3:1
Ingredients
.5 g Chili powder
.5 g Paprika
.5 g Garlic Powder
30 g 80% lean ground beef, cooked
4 g Kraft Deli Deluxe sharp cheddar cheese3
10 g Avocado oil
28 g KetoVie Café Cheddar Dough 3:1 (weigh raw), thawed
31 g Sour cream
10 g Butter
50 g Avocado
.2 g Salt
Directions
Preheat oven to 350 degrees.
Knead thawed dough ball until soft and roll or pat into a circle on parchment paper.
Gently lift flattened dough and place on ungreased baking sheet. Bake for 5 minutes or until lightly brown. Let cool.
Place oil and half of butter in non-stick pan on medium heat. Add ground beef and seasonings and cook until beef is no longer pink.
Spread remaining butter on dough carefully (it may crumble).  Mash avocado and spread half on tostada, then place meat on avocado.
Spoon remaining fat from pan onto tostada. Top with remaining avocado, sour cream, and cheese.
Enjoy!
Nutritional information
| | |
| --- | --- |
| Ketogenic Ratio | 3:1 |
| Calories | 524 |
| Net Carbs, g | 3.15 |
| Protein, g | 13.77 |
| Fat, g | 50.71 |