It's the time of year when kids and teachers start dreaming of summer vacation… but parents of children on ketogenic diets need to think ahead to next fall to make sure their children can eat school lunches. Advance preparation in the spring can save time and headaches in the fall and help children eat a hot school lunch with their friends starting on the first day of school.
By law, all children in public schools in states which receive federal funds are entitled to get a hot lunch served at the school, including children on ketogenic diets. The school also can't charge extra for lunches for kids on special diets due to disability. Charter schools, private, and religious schools are exempt from these requirements, although they may provide the lunches out of goodwill.
Special diets aren't restricted to students on a 504 plan or Individual Education Plan (IEP). That said, if your child is on one of those plans, this is a good time to raise the school lunch issue, as many schools are scheduling their annual meetings with parents for student's 504 or IEP. That meeting is a perfect time to raise the issue of school lunches with the teacher, school nurse, and maybe a counselor or principal who attends.
Whether or not you have a 504 or IEP meeting, here are three steps parents should take to make sure their children receive school lunches next fall.
Step 1: Get the forms that require physician signatures that can be completed over the summer.
In order to make food substitutions for children with epilepsy, the school MUST HAVE ON FILE a written statement signed by a licensed clinician (physician, nurse practitioner, registered dietitian) indicating what the child's disability is, what foods must be omitted from the child's diet, and what foods must be substituted.
This requirement has two purposes: to ensure that the lunch will not be compromised by poor substitutions, and that any substitution will be planned by someone who is highly qualified to make the decision. This requirement protects both the child and the food service personnel who are working to meet your child's needs.
In August, doctors' offices are flooded with forms to sign, and there can be a lengthy delay while you wait for your turn. Get the forms done before the back-to-school rush.
Step 2: Meet with the school's cafeteria manager and possibly the school district's registered dietitian (RD).
During the meeting, find out what the manager and dietitian in order to provide ketogenic school lunches for your child.  Ask for a tour of the kitchen so that you know what equipment they have available to create a ketogenic lunch.
We find that parents who take the time to get to know the food service director and staff at their local schools have the best experiences. You could even introduce them to your child so they can attach a human face to the extra work they will need to do.
Plus, an in-person meeting with the staff will force healthy conversations about epilepsy and your child's special diet, and decrease the odds of misinterpreting diet orders. Remember, this team is feeding an entire school so it's important to make sure they are absolutely clear on your child's specific needs.
Encourage them to contact you anytime with questions or ideas. Leave them a cell phone number, or a business card, or a sheet of paper with your child's picture and their dietary restrictions
Step 3: Get the contact information and summer schedule for key players.
School staff, including the cafeteria manager, the registered dietitian, and the school counselor and/or principal, may have questions. It's also a good idea to confirm everything is in place before the August back-to-school scramble. You can check on whether ketogenic foods and formula have been ordered, and whether the staff understand how they need to be handled once they're delivered. You can also offer a "how to" training to show the kitchen staff your child's favorite lunches.
If you or your schools' staff have questions about how to provide a ketogenic diet for your child, you can contact your state's USDA school meals agency. They're a valuable resource for families and the school when they need guidance on how they can provide the meals required by federal law.
The Charlie Foundation and Matthews Friends sites are also great resources for helping school staff and caregivers understand the ketogenic diet. On their websites you can find everything from descriptions of the diet your child is following, videos explaining ketogenic therapy, and even ketogenic diet specific information on school topics including lunch time, giving rewards in the class room, and participating in parties.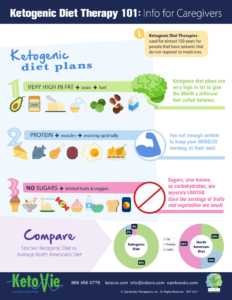 To make explaining the ketogenic diet a little easier this year, KetoVie has also created a handout called "Ketogenic Diet Therapy 101:  Info for Caregivers."  This handout is a resource to explain the basics about following any of the ketogenic therapies to teachers, school nurses, babysitters, school aides, etc.  It might even help a grandparent, aunt, or uncle understand a little more about this unfamiliar high fat diet your child is trying to follow.
We hope these three how-to steps  and resources help. If you have other ideas or insights on school lunch programs, please post them below for all to see. Because kids have lunch at school every day, and at Cambrooke, everyday is everything.