Fat Bombs: Guest blogger: Danielle Burch, MS, RD
As a ketogenic dietitian, I know first-hand the ketogenic diet is anything but cookie-cutter. Dietitians often "fine tune" or make adjustments with keto diet prescriptions when certain challenges arise such as an inability to finish 100% of meals or snacks, fat aversion, and/or lack of time to prep meals. One easy solution is the blog topic of the month, Fat Bombs!
Fat Bombs are high fat, tasty morsels that can be used as a quick ketogenic snack or as a convenient fat source with meals. Fat Bombs can help solve some of the common ketogenic challenges stated above. Here is how! Fat Bombs are small and portable, making them quick and easy to consume. They are a concentrated source of fat, allowing for a more typical appearing plate with protein and small amount of carbohydrate. They make for a great bedtime snack, leading to sustained ketosis overnight. In addition, Fat Bombs decrease food prep time because you can make one large batch consisting of four or fewer ingredients. Last, and certainly not least, Fat Bombs can aid in satisfying a savory or sweet tooth craving.
You can find lots of great fat bomb recipes online. Simply choose your fat source, pick your favorite flavorings and add some ingredients for a crunch factor. Refrigerate or freeze to create solid bite. Another option is to use food molds to create fun shapes.
Fats

Flavors

Texture

Coconut oil

Butter

Almond butter

Ghee

Bacon fat

Coconut cream

Oils

Heavy cream

Cream cheese

Flavor extracts

Dark chocolate

Cocoa powder

Spices/herbs

No calorie sweeteners/flavored syrups

Peanut butter

Sugar free gelatin

Almonds

Walnuts

Macadamia nuts

Chia seed

Finely shredded coconut

Bacon bits

Cocoa nibs

Coconut or almond flour
Fat Bomb combination inspiration:
-Coconut oil, cocoa powder, sweetener, walnuts
-Butter, vanilla extract, chai spice, crushed pistachios
-Cream cheese, butter, basil, bacon bits
-Coconut oil, shredded coconut, cocoa powder, peppermint oil
-Almond butter, cinnamon, almond extract, sliced almonds
-Butter, crunchy peanut butter, cocoa powder, sweetener
-Butter, egg, bacon
-Cream cheese, butter, salmon, lemon juice, dill
-Cream cheese, butter, strawberry sugar-free gelatin
-Cream cheese, butter, coconut flour, sugar free vanilla syrup
-Coconut oil, lemon zest, macadamia nuts, sweetener
Try my own Fat Bomb recipe: Cake-Pop Fat Bombs, made simple and possible with the help of KetoVie Café Donut Delights! #Yum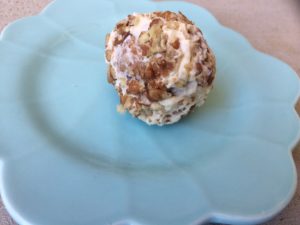 Ingredients:
28g         KetoVie Café Donut Delight (1 donut)
10g         Cream Cheese, Organic Valley
5g           Butter-European
5g           Ground Pecans
Other:    Cake-Pop stick, sweetener optional
Nutrients:
Ketogenic Ratio: 4:2
Serving Size: 1 Fat Bomb Pop
Calories: 243
Net Carbohydrates: 2.7g
Fat: 24.4g
Protein: 3.1g
Directions:
Weigh and mix butter and cream cheese in a bowl. Add sweetener if desired.
Briefly soften butter and cream cheese in the microwave for 4-5 seconds. Mix well.
Roll a KetoVie Café Donut Delight in the butter/cream cheese mixture.
Roll frosted donut in ground pecans.
Place one Cake-Pop stick in center of Fat Bomb Pop. Place on parchment paper.
Refrigerate for 30 minutes, until frosting is firm.
*Danielle Burch, MS, RD, is a ketogenic dietitian at Children's Hospital of the King's Daughters in Norfolk, VA.