When it comes to celebrating holidays, birthdays or family/friend gatherings, food plays a big role. For patients on the ketogenic diet this can cause stress not only for the patient, but family members as well.
A great way to kick start the month of May is celebrating Cinco De Mayo! When I think of this holiday; guacamole, tacos, tortilla chips with salsa, and quesadillas quickly come to mind.  I know from my close interactions with patients and families that manipulating common recipes to be keto friendly can be challenging and time consuming. Thanks to Cambrooke Therapeutics and their new KetoVIe Cafe Kwik Mix I was determined to make a soft taco recipe to share!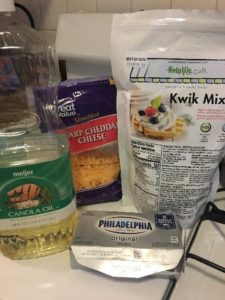 When I begin to think of making keto friendly recipes, I always turn to my favorite blog websites and Pinterest to help get inspired in the kitchen. I think about what I eat around the holiday/social events and foods missed by my patients who are on the diet to get my wheels turning. I began looking at general taco recipes and saw the common ingredients and then I looked at gluten free or low carb recipes to see if there were any changes in ingredients. Once I had my ingredients, I began to enter my taco recipe using the Ketodietcalculator. I adjusted ingredients to help achieve a 3:1 or 4:1 ratio and then started recipe testing!
I started with a recipe using butter, egg, salt, and KetoVie Café Kwik Mix. However, I struggled with getting a consistency to hold the tortilla together and flip well without falling apart.  Not only did the taco not stay well together, but the flavor was very bland. I went back to the drawing board and thought about the cheese "crackers" and the great flavor this could provide. I adjusted my recipe again and added sharp cheddar cheese, cold butter, and omitted the egg. The texture was an improvement, but still very sticky and hard to remove from the wax paper to cook on the skillet. I realized I needed a creamy, binding agent to help keep the mixture together. What did I come up with? More cheese! I added cream cheese to the mixture with the butter, shredded cheese, mix and water. Making these changes were a huge improvement and the flavor was delicious! I could see not only myself, but my patients using this recipe as their base and adding their favorite toppings and protein sources! The only issue I had was again flipping the taco and having it stay together. Flipping a taco or pancake may take a couple tries, but don't get discouraged!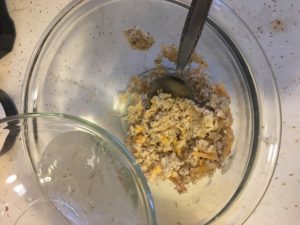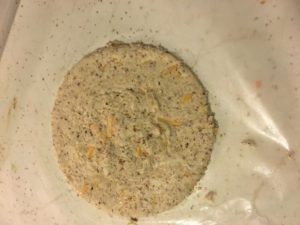 My final and last tweak was adjusting the shredded cheese to cream cheese ratio and trying canola oil instead of the butter. Success! The mixture held together and was easier to flip and stayed together. I used a loaf pan and set wax paper over the edge and while the taco was still hot I draped over the edge to cool. This formed the taco shape and provided a bendable texture to hold my favorite taco ingredients!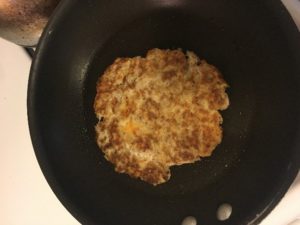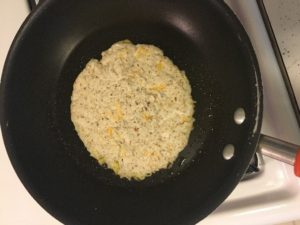 Developing and creating recipes is a fun way to get your family involved in the kitchen and allows your child to take some control of their ketogenic diet. Thanks to Cambrooke Therapeutics and all their keto-ready everyday products that have helped make preparing meals less stressful, delicious, and appealing meals to help keep your child's ketogenic diet on track!
Below is the final recipe:
KetoVie Cafe Kwik Mix Soft Taco Recipe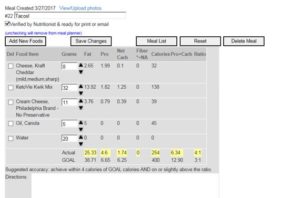 Ingredients
32 grams KetoVie Kwik Mix (about 4 Tbsp)
11 grams Philadelphia brand Cream cheese (about 1 Tbsp)
8 grams shredded sharp cheddar cheese (about 1 Tbsp)
5 grams canola oil (1 tsp)
20 grams water (about 6 Tbsp)
Provides: 254 calories, 25.33 grams of fat, 4.6 grams of protein and 1.74 grams of net carbohydrates; 4:1 ratio
Makes 1 taco
Directions:
Weigh the KetoVie Cafe Kwik Mix and place in a medium size bowl.
Weigh the cream cheese and add to the mix. Using a spoon begin to mix the cream cheese until it starts to form a paste.
Weigh the cheddar cheese and canola oil and add to the mixture. Continue to mix well to incorporate all ingredients.
Weigh and add the water to the mixture until a dough ball forms. Let dough sit for 5 minutes.
Place non-stick skillet on stove and turn to medium heat. Lightly spray with non-stick spray.
Use two pieces of wax paper and using a rolling pin roll the dough to about 6 inches in diameter. You can use a bowl to make a more circular and uniform taco if desired.
Place taco on hot skillet and cook for about 2 minutes or until the edges begin to brown and bubble in the center.
Flip over and cook for another minute. Remove from skillet and allow to cool before assembling your taco!
Add your favorite toppings to fit your ratio and calorie needs. Enjoy!