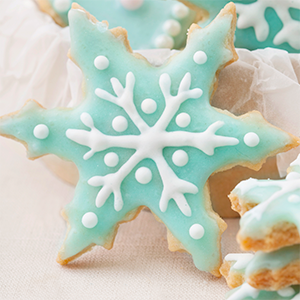 CATEGORY Baking, Cookie, Dessert
SERVING SIZE 2 small cut-out cookies or 1 large cookie
SERVINGS PER RECIPE 1
5g butter (about 1 tsp)
10g egg, raw, mixed well (about 2 tsp)
1g vanilla extract (about ¼ tsp)
0.5g almond extract (about ⅛ tsp)
2-3 drops liquid stevia (optional)
28g KetoVie Café Kwik Mix (about ¼ cup)

Preheat oven to 350°.
Line a small baking tray with parchment paper.
Weigh the butter, melt and allow to cool slightly.
Weigh the egg and mix well with cooled butter.
Add vanilla extract, almond extract and 2-3 drops liquid stevia for added sweetness.
Add wet ingredients to Kwik Mix and stir well until a smooth dough ball is formed.
Place dough ball on the baking tray. Use your hands or the back of a spoon to press the dough into a round cookie shape or use your favorite holiday cut-out shapes.
Depending on the cut-out size, you may be able to make 2 small cookies.
Bake for 7-8 minutes.

When cool, frost with White Chocolate Frosting recipe.
| | Per Recipe | Per Serving |
| --- | --- | --- |
| Ketogenic Ratio | 4.1:1 | 4.1:1 |
| Calories | 172 | 172 |
| Net Carbs, g | 1.3 | 1.3 |
| Protein, g | 2.9 | 2.9 |
| Fat, g | 17.2 | 17.2 |