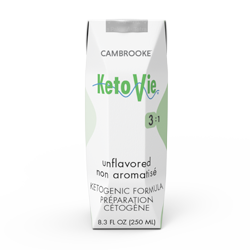 The first and only nutritionally complete ready-to-use liquid 3:1 ketogenic medical food.
KetoVie 3:1 is indicated for the dietary management of intractable epilepsy and other disorders for individuals 1+ years that require a ketogenic diet for both oral and tube feeding.
KetoVie 3:1 is specially designed for these situations:
Higher protein needs
Micronutrients for early years
Lower calorie needs
Tolerance issue with higher ratios
Safe implementation of a 3:1 formula
---
All the same key features of KetoVie 4:1 including 100% whey based protein with the following modifications and benefits.
Features & Benefits
Ratio: 3:1 liquid formulation – Lower ratio for early years, reduce risk of acidosis and/or GI intolerance
Protein: 2.7 g per 100 kcal – To meet protein estimates for individuals with low energy needs
MCT: 6 g per 250 mL – Individuals with GI sensitivity
Pre-biotic Fiber: scFOS/GOS - Promotes digestive health and immunity
Caloric Density: 1 kcal/mL - Easy transition from standard enteral feeds
Specialized Nutrients: DHA/ARA (1:1), Taurine, Inositol – Promotes brain and eye development
Micronutrients: designed for early years – Meet age-specific needs for younger children
Unflavored, no added sweeteners or colors – For families concerned about extra additives
Free water - 85%
---
KetoVie 3:1 Unflavored is a 3:1 ketogenic ratio, (fat: carbohydrate+protein*), ready-to-feed nutritionally complete ketogenic medical food with 100% wheybased protein and contains 20% of calories as MCT. KetoVie 3:1 is designed for individuals over one year of age and indicated for the dietary management of intractable epilepsy and other disorders where a ketogenic diet is indicated.
KetoVie 3:1 also contains supplemental DHA and ARA to help support brain and eye development plus fructooligosaccherides (FOS) and galactooligosaccherides (GOS), prebiotic fibers which help support digestive health and immunity.
The formula has a mild milk taste without any flavors or sweeteners. Can be used for both oral and tube feeding.
*Calculation subtracts fiber.

Kosher Certified - OU Dairy certified by the Union of Orthodox Jewish Congregations of America (the "Orthodox Union"). Learn more at oukosher.org
Water, high oleic canola oil, whey protein concentrate, medium chain triglycerides, less than 2% of galactooligosaccharides (GOS), fructooligosaccharides (FOS), canola oil, vitamin A palmitate, cholecalciferol, dlalpha-tocopheryl acetate, niacinamide, d-calcium pantothenate, phytonadione, folic acid, biotin, riboflavin, sodium ascorbate, thiamin mononitrate, pyridoxine hydrochloride, choline bitartrate, cyanocobalamin, potassium chloride, magnesium phosphate, calcium phosphate, potassium hydroxide, potassium phosphate, ferric pyrophosphate, zinc gluconate, potassium iodide, sodium selenite, copper gluconate, sodium molybdate, manganese sulfate, chromium chloride, calcium citrate, citric acid ester of mono and diglycerides, potassium citrate, DHA algal oil, ARA fungal oil (M. alpina), mono and diglycerides, carrageenan, salt, L-carnitine, taurine, inositol. Contains milk.
| KetoVie 3:1 | 8.5 fl oz (250mL) carton | per 100mL |
| --- | --- | --- |
| Ketogenic Ratio | 3:1 | 3:1 |
| Calories from Fat | 225 | 90 |
| Calories | 260 | 104 |
NDC: 24359-0504-03
HCPCS: B4154, B4157, B4162
30 x 8.5 fl oz (250 mL) cartons