KetoVie® 4:1 Plant-Based Protein Vanilla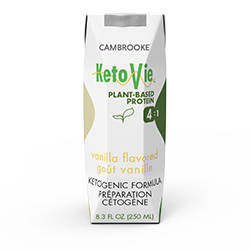 The first and only nutritionally complete plant-based protein ketogenic formula.
A flavored ready-to-feed ketogenic medical food containing MCT and blend of intact and partially hydrolyzed pea protein complete with vitamins and minerals.
Uniquely designed with:
Pea and hydrolyzed pea protein
PDCAAS (protein digestibility-corrected amino acid score) of 1.0
Free of milk and soy ingredients
MCT 25% of calories
Great tasting vanilla flavor, lightly sweetened with all-natural stevia
Nutritional Profile Features & Benefits
Ketogenic Ratio – 4:1 ratio (fat grams: net carbs (total carbohydrates – total fiber) + protein).
Complete Nutrition – Nutritionally complete formula for patients 1+ years of age, suitable for tube or oral feeding.
Protein – Plant based with pea and hydrolyzed pea protein, designed with highest possible PDCAAS score.
Kosher OU certified
Free water - 79%
Osmolality – 373 mOsm/kg
Features Summary (per 250 mL)
*Net carbs are total carbohydrates minus dietary fiber.
---
KetoVie 4:1 Plant Based Protein is a 4:1 (fat: net carbohydrate* + protein) pea and hydrolyzed pea protein-based enteral ketogenic formula that is nutritionally complete for ages 1 year and up. Contains 25% of calories as MCT (medium chain triglycerides). Suitable for those unable to tolerate milk and soy.
*net carbohydrate = total carbohydrate – total fiber.

Kosher Certified - OU Dairy certified by the Union of Orthodox Jewish Congregations of America (the "Orthodox Union"). Learn more at oukosher.org
Filtered water, high oleic sunflower oil, hydrolyzed and intact pea protein, medium chain triglycerides, canola oil, contains less than 2% of inulin, natural flavors, vitamin A palmitate, cholecalciferol, dlαtocopheryl acetate, phylloquinone, menaquinone (MK7), thiamine mononitrate, riboflavin, Niacinamide, pyridoxine hydrochloride, sodium ascorbate, folic acid, cyanocobalamin, calcium Dpantothenate, biotin, calcium citrate, potassium chloride, sodium phosphate, calcium carbonate, calcium phosphate, magnesium phosphate, chromium chloride, copper sulfate, potassium iodide, ferric pyrophosphate, manganese sulfate, sodium molybdate, sodium selenite, zinc sulfate, choline chloride, citric acid esters of mono and diglycerides, cellulose gel, maltodextrin, docosahexaenoic acid (DHA), salt, stevia, mono and diglycerides, Lcarnitine, Lcystine, inositol, taurine, Ltryptophan.
NDC formatted code: 24359-0603-03
HCPCS: B4153, B4161, B4157, B4162
30 x 8.5 fl oz (250 mL) cartons