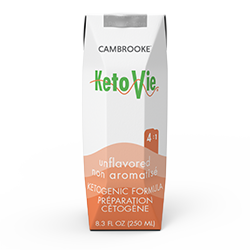 KetoVie 4:1 Unflavored is a nutritionally complete ready-to-use liquid 4:1 ketogenic medical food with no artificial sweeteners or flavorings, 100% partially hydrolyzed whey protein and contains MCT.
Indicated for the dietary management of intractable epilepsy and other disorders for individuals 1+ years that require a ketogenic diet for both oral and tube feeding.
Thoughtfully designed for when you want:
4:1 ketogenic ratio
No artificial sweeteners
No artificial flavors
Neutral milk taste
Partially hydrolyzed whey protein for GI comfort
---
Specialized Features
MCT – 25% of the total calories to help achieve ketosis and help manage constipation.
100% partially hydrolyzed whey protein – easy to digest and promotes efficient absorption.
Carnitine – contains 50mg carnitine per serving to support fat metabolism.
Selenium – contains 23mcg per serving to provide supplemental support as levels may become deficient on a ketogenic diet.
Fiber – contains a blend of soluble and insoluble fiber, including prebiotic fibers for gut health.
Optimized Nutrition – added taurine, inositol and DHA/ARA for brain and eye development.
Unflavored, no added sweeteners or colors – for families wanting to avoid extra additives.
Free water – 79%
---
KetoVie 4:1 Unflavored is a 4:1 ketogenic ratio, (fat: carbohydrate+protein*), ready-to-feed nutritionally complete ketogenic medical food with 100% partially hydrolyzed whey based protein and contains 25% of calories as MCT. KetoVie 4:1 Unflavored is designed for individuals over one year of age and indicated for the dietary management of intractable epilepsy and other disorders where a ketogenic diet is indicated.

Kosher Certified - OU Dairy certified by the Union of Orthodox Jewish Congregations of America (the "Orthodox Union"). Learn more at oukosher.org
Water, high oleic sunflower oil, canola oil, medium chain triglycerides, hydrolyzed whey protein isolate, contains less than 2% of inulin, citric acid esters of mono and di-glycerides, cellulose gel, docosahexaenoic acid (DHA), arachidonic acid (ARA), carrageenan, mono and di-glycerides, vitamin A palmitate, cholecalciferol, dl-α-tocopheryl acetate, phylloquinone, menaquinone (MK-7), thiamine mononitrate, riboflavin, niacinamide, pyridoxine hydrochloride, folic acid, cyanocobalamin, calcium d-pantothenate, biotin, calcium carbonate, sodium phosphate, calcium phosphate, calcium citrate, maltodextrin, potassium chloride, magnesium phosphate, chromium chloride, copper sulfate, potassium iodide, ferric pyrophosphate, manganese sulfate, sodium molybdate, sodium selenite, zinc sulfate, choline chloride, sodium ascorbate, L-carnitine, inositol, taurine. Contains milk.
| KetoVie 4:1 Unflavored | 8.5 fl oz (250mL) carton | per 100mL |
| --- | --- | --- |
| Ketogenic Ratio | 4:1 | 4:1 |
| Calories from Fat | 326 | 130 |
| Calories | 375 | 150 |
NDC formatted code: 24359-0506-03
HCPCS: B4153, B4161, B4157, B4162
30 x 8.5 fl oz (250 mL) cartons