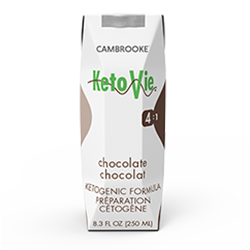 KetoVie 4:1 helps simplify your everyday with the first ready to use liquid ketogenic formula for over one year of age that contains a blend of key nutrients to address many of the challenges we face on ketogenic diets.
Here is how we are different than other formulas and why that is important:
KetoVie Differences
MCT – 25% of the total calories and is the only ready to drink product available that has MCT. MCT has been shown to boost ketosis and may have a laxative effect important to help achieve ketosis and help manage constipation.
Whey protein – KetoVie protein is made from 100% whey and is the only ready to drink product with this easy to digest source of protein to help improve overall tolerance.
Net Carbs – the lowest in net carbs at 0.4g (vanilla) and 1.1g (chocolate) to make it easier to fit into the restricted carbohydrates in the spectrum of ketogenic diets.
Carnitine – contains 50mg Carnitine per serving to provide supplemental support as levels may become deficient on a ketogenic diet.
Selenium – contains 22mcg per serving to provide supplemental support as levels may become deficient on a ketogenic diet.
Other Important KetoVie Facts
Nutritionally complete
Indicated for 1 year of age +
Contains DHA
Trans fat free
Nutrient dense for low energy needs
Blend of insoluble and soluble fibers
Sucrose free!
Aspartame free!
Sweetened with sucralose and acesulfame potassium
Two flavors: mild vanilla and chocolate
Delicious smooth taste
Mildly sweet
Free water: 77%
---
KetoVie - Chocolate is a 4:1 ratio (fat: carbohydrate + protein*) ready-to-drink nutritionally complete ketogenic formula containing 25% of calories as MCT. KetoVie is designed for individuals over one year of age and indicated for the dietary management of intractable epilepsy and other disorders where the ketogenic diet is indicated. *Calculation subtracts fiber.

Kosher Certified - OU Dairy certified by the Union of Orthodox Jewish Congregations of America (the "Orthodox Union"). Learn more at oukosher.org
Water, cocoa butter, medium chain triglycerides, canola oil, whey protein blend (whey protein concentrate and whey protein isolate) (milk), inulin, cocoa processed with alkali, fortification blend (tricalcium phosphate, choline bitartrate, sodium ascorbate and ascorbic acid, magnesium phosphate, L-carnitine L-tartrate, niacinamide, dl-alpha-tocopheryl acetate, zinc sulfate, calcium d-pantothenenate, manganese sulfate, iron, riboflavin, pyridoxine HCl, thiamin HCl, folic acid, vitamin A palmitate, potassium iodide, copper, sodium selenite, sodium molybdate, K1 phytonadione, K2 menaquinone-7, chromium chloride, biotin, vitamin D3, cyanocobalamin, maltodextrin), natural flavors, cellulose gel, pectin, potassium citrate, sodium hexametaphosphate, sodium citrate, sodium steroyl lactylate (soy), DHA algal oil, carrageenan, salt, L-histidine, sucralose. Contains milk and soy.
| KetoVie 4:1 Chocolate | 8.5 fl oz (250mL) carton | per 100mL |
| --- | --- | --- |
| Ketogenic Ratio | 4:1 | 4:1 |
| Calories from Fat | 340 | 136 |
| Calories | 390 | 156 |
30 x 8.5 fl oz (250 mL) cartons