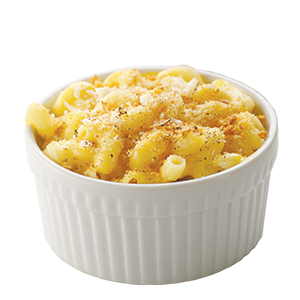 CATEGORY Main Dish, Side Dish
SERVING SIZE 1
SERVINGS PER RECIPE 1
31g KetoVie Café Wholesome 3.5:1 Bread
27g unsalted butter
36g sharp cheddar cheese, shredded
60g tofu shirataki noodles
15g heavy creamy
Rinse and drain noodles in cold water. Pat dry.
Combine noodles, shredded cheese, cream and half of the butter.
Place in small baking container and bake for 25 minutes at 350° F.
Toast and crumble bread in a bowl, mix with remaining butter.
Sprinkle over mac and cheese, place under broiler until browned.
| | Per Recipe | Per Serving |
| --- | --- | --- |
| Ketogenic Ratio | 3.5:1 | 3.5:1 |
| Calories | 537 | 537 |
| Net Carbs, g | 2.4 | 2.4 |
| Protein, g | 12 | 12 |
| Fat, g | 51.7 | 51.7 |