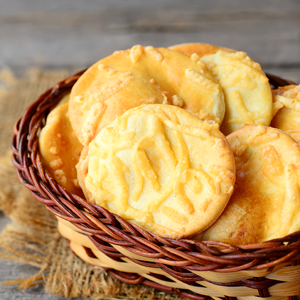 CATEGORY Appetizer, Snack
SERVING SIZE 7 crisps
SERVINGS PER RECIPE 1
28g KetoVie Café Cheddar Dough (1 dough ball)
Preheat oven to 350° F.
Knead dough ball and divide evenly into 7 smaller balls, ½ tsp rounded (4g) each.
Roll each ball between your hands until smooth.
Press between two sheets of parchment paper using a tortilla press or roll thin with a rolling pin.
Gently lift flattened dough and place on ungreased baking sheet. Season with salt if desired.
Bake 5-6 minutes or until edges start to brown.

| | Per Recipe | Per Serving |
| --- | --- | --- |
| Ketogenic Ratio | 3:1 | 3:1 |
| Calories | 130 | 130 |
| Net Carbs, g | 0.7 | 0.7 |
| Protein, g | 3.4 | 3.4 |
| Fat, g | 12.5 | 12.5 |