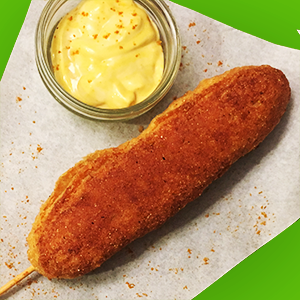 CATEGORY Main Dish, Snack
SERVING SIZE 1 corn dog
SERVINGS PER RECIPE 1
15g heavy cream, 36% (1 Tbs)
0.5g vinegar, white distilled (⅛ tsp)
21g Applegate Farms® Original Uncured Beef Hot Dog (½ hot dog)
1 wooden skewer (6-8 inches long)
0.6g baking powder (⅛ tsp)
9g Kroger® Yellow Corn Meal (1 Tbs)
21g KetoVie Café Kwik Mix (3 Tbs)
1 pinch salt
14g egg, raw, mixed well (about 1 Tbs)
3g canola oil (about ½ tsp)
+ extra oil for frying
Dipping sauce:
15g Kraft® Real Mayonnaise (1 Tbs)
5g yellow mustard (1 tsp)
Mix cream and vinegar in a cup, let it stand for 5 minutes, then stir.
Cut a hot dog lengthwise. Skewer one half of the hot dog.
Combine all dry ingredients in a small bowl. Mix well until combined.
In a separate small bowl, mix the egg and oil with the cream and vinegar mixture.
Pour wet ingredients into bowl with dry ingredients. Mix well until combined. Place the bowl in the refrigerator for 5 minutes to let the batter firm up.
Take the refrigerated batter and work it with your hands around the skewered half of the hot dog to cover the hot dog fully. If batter starts to fall off the hot dog, put the hot dog and batter into the refrigerator for a couple of minutes to make it firmer.
Heat oil in a small pan (about 1 inch oil in pan). Carefully place corn dog into the pan. Fry on medium heat for about 2 minutes on each side or until golden brown. Do not let oil smoke or corn dog burn. Reduce the heat as needed. Using tongs, remove the corn dog from the pan.
DIPPING SAUCE: Mix mayonnaise and mustard and serve with corn dog.
NOTE: When corn dogs were weighed before and after frying, they weighed on average 8% more, thus it was determined that the ratio of fried corn dogs was closer to 2.5:1 ratio given oil absorbed during frying. However, it is difficult to determine with certainty given moisture loss during frying.
Calories ~433 after frying.

Recipe developed by Lisa Shkoda, RDN, CNSC, FAND, University of Virginia.
| | Per Recipe | Per Serving |
| --- | --- | --- |
| Ketogenic Ratio | 1.5:1 | 1.5:1 |
| Calories | 370 | 370 |
| Net Carbs, g | 9.5 | 9.5 |
| Protein, g | 6.9 | 6.9 |
| Fat, g | 33.7 | 33.7 |