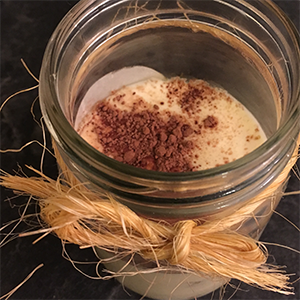 CATEGORY Dessert
SERVING SIZE 1 bowl
SERVINGS PER RECIPE 1
46g Egg Beaters® 100% Egg Whites (3 Tbs)
77g BelGioioso® Mascarpone Cheese (¼ cup + 1½ Tbs)
23g Swerve® Sweetener, granular (1½ Tbs)
1g pure vanilla extract (¼ tsp)
1 shot espresso, regular or decaf (2 oz)
2 drops liquid stevia
56g KetoVie Café Donut Delights (2 donuts)
0.4g Hershey's® Unsweetened Cocoa (¼ tsp)
Beat egg whites with a hand mixer in a medium bowl until soft peaks form. Do not overbeat.
In a separate bowl, add mascarpone cheese, vanilla and Swerve. Blend with hand mixer until smooth and well combined.
Fold egg whites into mascarpone cheese mixture carefully using a small spatula. Add a couple of drops of liquid stevia to the shot of espresso. Cut donuts into halves.
Pour 1 oz of the espresso into a small bowl or cup. Dip each donut half in the espresso and squeeze out any excess. If you need more espresso, use the remaining 1 oz.
Make sure to incorporate into the recipe all of the coffee you used to dip donuts in, since some fat from donuts may end up dissolving in coffee.
Place half of the donut halves, dipped in coffee, in one layer in a glass bowl. It is ok if donut halves start to break. Pour half of the mascarpone cheese mixture on top of donut halves. Layer the remaining donut halves in the bowl and pour over the remaining mascarpone cheese and egg mixture. Sprinkle cocoa powder on top.
Cover and refrigerate for 24 hours before serving.

Recipe developed by Lisa Shkoda, RDN, CNSC, FAND, University of Virginia.
| | Per Recipe | Per Serving |
| --- | --- | --- |
| Ketogenic Ratio | 2:1 | 2:1 |
| Calories | 624 | 624 |
| Net Carbs, g | 8.8 | 8.8 |
| Protein, g | 14.5 | 14.5 |
| Fat, g | 59 | 59 |