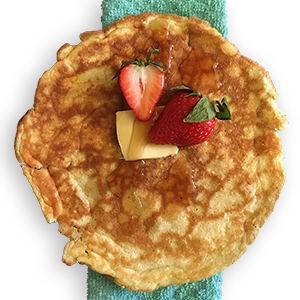 CATEGORY Baking Mix, Breakfast, Dessert
SERVING SIZE 1 large or 2 small crepes
SERVINGS PER RECIPE 1
30g cream, 36% (2 Tbs)
30g Blue Diamond® Almond Breeze® Unsweetened Original Almondmilk (2 Tbs)
45g egg, raw, mixed well (about 3 Tbs)
5g canola oil (1 tsp)
1 drop liquid stevia
28g KetoVie Café Kwik Mix (¼ cup)
5g butter (1 tsp)
27g fresh strawberry (1 extra-large 1 5/8-inch)
Optional: Walden Farms® Pancake or Maple Walnut Syrup, calorie-free
Combine cream and almond milk in a cup.
Mix egg and oil with a fork in a small bowl.
Add almond milk and cream mixture to eggs/oil and beat with a fork.
Add Kwik Mix and 1 drop of Stevia and beat with a fork until smooth consistency.
Heat a medium size skillet and spray it with oil spray. Reduce heat to low. Pour enough of the batter to cover the bottom of pan with a thin layer of batter. Move the pan around to spread the batter evenly. You may have some batter remaining.
Cook the crepe on low heat for 2 minutes. Cover and cook for another 1.5 minutes. Remove lid, then remove pan from heat. Let stand for a few seconds until the crepe cools to a temperature you can comfortably touch with your hand.
Flip the crepe onto your hand and back to the pan on the uncooked side. Cook another 1.5 minutes on low heat.
Cook any leftover batter in the same fashion.
Serve with strawberry and butter or with the optional syrup.

*NOTE: The recipe without strawberry yields 3.5:1 ratio.

Recipe developed by Lisa Shkoda, RDN, CNSC, FAND, University of Virginia.
| | Per Recipe | Per Serving |
| --- | --- | --- |
| Ketogenic Ratio | 2.5:1 | 2.5:1 |
| Calories | 380 | 380 |
| Net Carbs, g | 3.9 | 3.9 |
| Protein, g | 8.2 | 8.2 |
| Fat, g | 36.7 | 36.7 |