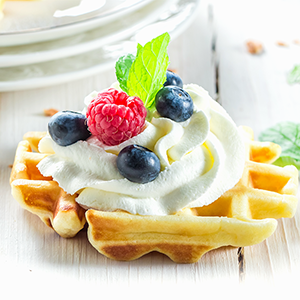 CATEGORY Baking, Breakfast
SERVING SIZE 4 oz (112g) waffle
SERVINGS PER RECIPE 1
28g KetoVie Café Kwik Mix (¼ cup)
30g heavy cream, 36% (2 Tbs)
37g egg, beaten well (¼ cup)
10g canola oil (2 tsp)
7g water (2 tsp)


Heat waffle iron and grease with oil.
Whisk all ingredients until blended and
pour in greased waffle iron.
Bake waffles until toasty golden brown.

Tips: Complement recipe with a serving of butter and/or whipped cream to enhance flavor as well as the Keto Ratio, which will allow for a portion of fresh berries.
Replace canola oil for equal amount of bacon fat for great flavor.
Increase recipe three-fold or more and stack cooled waffles between sheets of waxed paper. Bag and store in freezer for a quick Heat & Serve breakfast. Reheat in toaster or oven.
| | Per Recipe | Per Serving |
| --- | --- | --- |
| Ketogenic Ratio | 4:1 | 4:1 |
| Calories | 364 | 364 |
| Net Carbs, g | 2.2 | 2.2 |
| Protein, g | 6.9 | 6.9 |
| Fat, g | 36.5 | 36.5 |