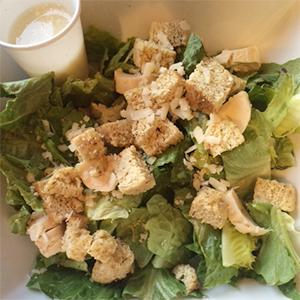 CATEGORY Main Dish, Salad
SERVING SIZE 1
SERVINGS PER RECIPE 1
50g KetoVie Café Wholesome 3.5:1 Bread (1 roll)
19g olive oil (1 Tbs + 1 tsp)
60g romaine lettuce (1¼ cup, shredded)
25g chicken breast, cooked (3 Tbs, shredded)
5g Parmesan cheese, (1 Tbs, shredded)
20g salad dressing, creamy Italian, Marie's® (1½ Tbs)
Optional: salt, pepper, garlic powder, Italian seasonings


Weigh all ingredients.
Cut thawed Wholesome 3.5:1 Bread into cubes.
Use a small portion of olive oil in a heated frying pan and toast bread cubes for croutons. Season croutons with salt and pepper or garlic powder and Italian seasoning.
Assemble salad with lettuce, chicken, Parmesan cheese and croutons. Top with dressing and any remaining olive oil.
| | Per Recipe | Per Serving |
| --- | --- | --- |
| Ketogenic Ratio | 3:1 | 3:1 |
| Calories | 567 | 567 |
| Net Carbs, g | 1.9 | 1.9 |
| Protein, g | 16.4 | 16.4 |
| Fat, g | 55 | 55 |