KetoVie™ Formula
At KetoVie we provide safe, reliable, effective, and convenient ketogenic formulas for the dietary management of intractable epilepsy (difficult to control seizures).
But we take it a step further with our advanced formulations that include a unique blend of key ingredients to address many of the challenges we face on ketogenic diets.
KetoVie works closely with ketogenic diet experts to offer solutions with multi-nutritional benefits so your experience on ketogenic therapy can help you reclaim your everyday.
Ketovie formulas are ready to use liquid medical foods for 1 year of age and older, that provide complete nutrition including vitamins and minerals and can replace meals and snacks or be given as a tube feeding.

Kosher Certified - OU Dairy certified by the Union of Orthodox Jewish Congregations of America (the "Orthodox Union"). Learn more at oukosher.org
---
KetoVie 4:1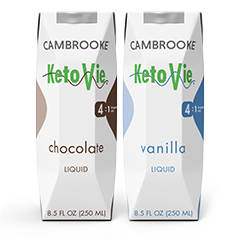 KetoVie 4:1 formulas are available in mildly sweet and delicious vanilla and chocolate flavors. Our packaging looks like a beverage you might find in a grocery store which is especially important to children who want normal looking products to drink. Learn more about how KetoVie 4:1 offers solutions to the common challenges experienced on a ketogenic diet.
---
Now Available KetoVie Peptide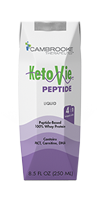 KetoVie Peptide 4:1, the first and only nutritionally complete peptide based ketogenic formula designed for individuals with impaired digestive function or intolerance to intact proteins.
Learn more why KetoVie Peptide is an optimal solution for neurologically impaired patients requiring ketogenic tube feeding, critical care patients on ketogenic tube feeding, and for individuals with GI sensitivities (oral or tube feeding).
KetoVie Peptide learn more
---
View Recipes
To add some variety, try our simple and tasty ketogenic recipes with KetoVie 4:1 Chocolate or Vanilla formulas. You can make smoothies like our KetoVie chocolate peanut butter smoothie.