Coming Soon! KetoVie™ Peptide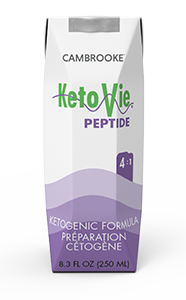 KetoVie now addresses the challenges that many families face when their child needs a ketogenic formula that is easier to digest. KetoVie Peptide is the first and only ketogenic peptide based formula for individuals with impaired digestive function or intolerance to intact proteins. KetoVie Peptide is a nutritionally complete 4:1 ketogenic ratio partially hydrolyzed protein based formula for both tube and oral feeding.
KetoVie Peptide is specially designed for these situations:
Impaired GI Function
Intolerance to Intact Proteins
Tube Feeding
Critical Care Patients
---
Specialized Features
100% enzymatically hydrolyzed whey protein
MCT – 20% of calories
Calorically dense – 1.7 kcal/mL
No added fibers
No added sweeteners, flavors, or colors
Low osmolality – 212 mOsm/kg
Nutritional Profile Features & Benefits
Complete Nutrition – Nutritionally complete formula for patients 1+ years of age.
Protein – Enzymatically hydrolyzed whey with 8.3 g protein: small peptides (77% ≤ 1,250 Daltons) for patients with impaired GI function or intolerance to intact proteins.
Fats

20% calories from MCT to promote stronger ketosis
50 mg Carnitine: to transport fat in the cell
160 mg DHA: important for brain and eye development
Trans-fat free

Carbohydrates

2.1 g net carbs per serving: low carbs to allow for maximum protein
No added fiber, artificial sweeteners, colors, or flavors added, for patients with GI sensitivity and intolerances

Calorically Dense – To meet nutritional needs in lower volume
Vitamins & Minerals

29 mcg Selenium: protect from selenium deficiency
Bone health blend: optimized Calcium, Phosphorus, Magnesium, Vit D, Vit K 1 & 2 to promote bone mineralizationl

Citrates – 20 mEq K-Citrate: to help manage potential acidosis
---
KetoVie Peptide is a 4:1 (fat: net carbohydrate* + protein) hydrolyzed whey protein-based enteral ketogenic formula that is nutritionally complete for ages 1 year and up. Appropriate for individuals with impaired GI function and/or intolerance to intact proteins. Contains 20% of calories as MCT (medium chain triglycerides.) *net carbohydrate = total carbohydrate – total fiber.
Water, canola oil, medium chain triglycerides, whey protein hydrolysate (milk), quillaja extract, potassium citrate, sodium steroyl lactylate (soy), fortification blend (calcium citrate, dicalcium phosphate, magnesium phosphate, choline bitartrate, acetyl-L-carnitine HCl, sodium ascorbate, ascorbic acid, ferrous fumarate, zinc sulfate, niacinamide, calcium d-pantothenate, riboflavin, thiamin HCl, pyridoxine HCl, copper gluconate, vitamin A palmitate, folic acid, potassium iodide, sodium selenite, manganese sulfate, K2 menaquinone-7, vitamin D3, sodium molybdate, chromium chloride, biotin, cyanocobalamin), DHA algal oil (sunflower lecithin and rosemary extract [flavorings], ascorbyl palmitate and tocopherols [antioxidants]), salt, lecithin (soy), sodium hexametaphosphate. Contains milk. Also contains soy.
| KetoVie Peptide | 8.5 fl oz (250mL) carton | per 100mL |
| --- | --- | --- |
| Ketogenic Ratio | 4:1 | 4:1 |
| Calories from Fat | 376 | 150 |
| Calories | 428 | 171 |
30 x 8.5 fl oz (250 mL) cartons